Richard K. Broussard, M.D.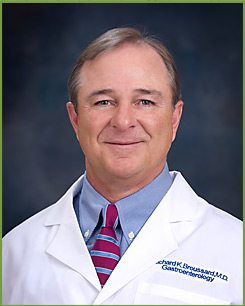 Richard K. Broussard was born in Erath, Louisiana, and raised in Breaux Bridge, Louisiana. He graduated from Louisiana State University in 1982 with a Bachelor of Science degree in Biology. He earned his Medical degree at Louisiana State University School of Medicine in Shreveport, Louisiana. While in medical school, Dr. Broussard served as a class officer and President of The Shreveport Student Medical Society.
Dr. Broussard completed an Internal Medicine Residency at Louisiana State University School of Medicine in Shreveport, Louisiana. Serving as Chief Medical Resident an additional year, he was responsible for presenting medical conferences for the Internal Medicine program and teaching medical students. From 1990 to 1993, he completed a Fellowship in Gastroenterology at Scott and White Hospital (Texas A & M University affiliated) in Temple, Texas. Exposed to a large, diverse staff base, many of which were Mayo Clinic trained, Dr. Broussard received extensive training in gastrointestinal disorders. He was also afforded the opportunity to author articles in The American Journal of Gastroenterology and give presentations at national meetings.
Dr. Broussard is Board Certified in Internal Medicine and Gastroenterology by The American Board of Internal Medicine. He has been in private practice since 1993, and joined Acadiana Gastroenterology Associates in 1996. Dr. Broussard currently provides service to his patients at Acadiana Endoscopy Center, Lafayette General Medical Center, and Our Lady of Lourdes Regional Medical Center. He has served on Our Lady of Lourdes Foundation Board and currently serves on Our Lady of Lourdes Board of Directors. Dr. Broussard has been deemed one of the top Gastroenterology Physicians in the State of Louisiana by his peers in Louisiana Life Magazine.
Dr. Broussard is married to Kim Greenlaw Broussard and they have four children. He enjoys golf, hunting, photography, painting and spending time with his family.
Medical Societies
Louisiana State Medical Society

Lafayette Parish Medical Society
Professional Societies
American Gastroenterological Association

American College of Gastroenterology