J. Patrick Herrington, M.D.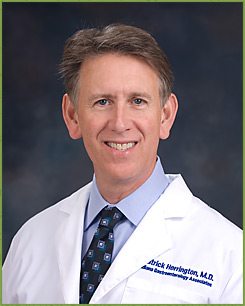 J. Patrick Herrington, born in Houston, Texas and raised in Jennings, Louisiana, is a 40 year resident of Lafayette, Louisiana. He is an Honors Graduate of Tulane University where he received a B.S. degree in Biology.  Earning his Doctor of Medicine from Tulane University School of Medicine in 1976, he completed his Internal Medicine Residency at Ochsner Medical Institutions where he served as Chief Resident. He received Board Certification in Internal Medicine in 1979 and honored with Fellowship in the American College of Physicians.  Continuing at Ochsner, Dr. Herrington completed a Gastroenterology Fellowship in 1981 receiving Board Certification in Gastroenterology from The American Board of Internal Medicine.
Dr. Herrington entered private medical practice with Dr. Person and Acadiana Gastroenterology Associates in 1981.  He has served as Chairman of Medicine, Lafayette General Hospital; Chief of Staff, Our Lady of Lourdes Regional Medical Center; and, Board of Trustee Member of Our Lady of Lourdes Regional Medical Center.  From 2009-11, he served as President of The Louisiana Gastroenterology Society and as Course Director for the American College of Gastroenterology's last two regional postgraduate courses held in New Orleans. He has been recently honored in Louisiana Life Magazine by his peers as one of the top GI physicians in the state.
Dr. Herrington has authored articles dealing with esophageal motor disorders, chest pain, and their treatment in various professional journals. He continues to be interested in quality indicators in endoscopy relating to delivering excellence in endoscopic care. He regularly attends seminars and workshops presenting the latest information on developments in the field of Gastroenterology and maintains active membership in several professional medical societies.
Dr. Herrington and his wife, Ann, of 44 years have two sons and five grandchildren. He has been active in promoting tennis statewide and has served in various positions with the Louisiana Tennis Association.  His philanthropic endeavors include support for local schools and church.  He currently enjoys swimming, biking, the occasional triathlon, gardening and photography.
Medical Societies
Louisiana State Medical Society

Lafayette Parish Medical Society
Professional Societies
Louisiana Gastroenterology Society

American Gastroenterological Association

American College of Gastroenterology

American Society for Gastrointestinal Endoscopy